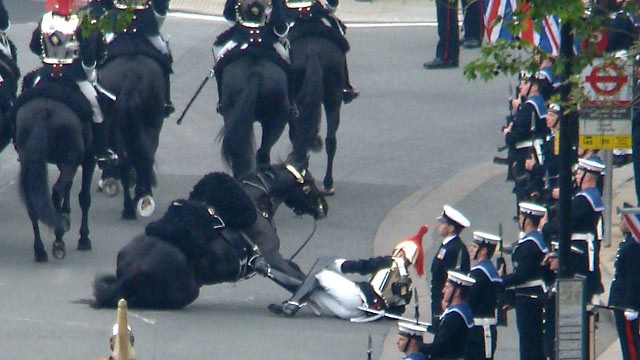 A Blues and Royals horse may not be the only thing to falter
in the wake of Britain's royal wedding
Slate
put it this way
:
Retail researchers Verdict estimated a £620 million economy-wide windfall.
But the wedding will also have a big negative economic impact. Friday, normally a work day, is a national holiday, meaning a considerable output drop. How big?
The Confederation of British Industry estimated in 2007 that each additional holiday costs the economy something like £6 billion. And that estimate might be low. The Kate-and-Wills special holiday happens to fall in between an official Easter holiday and the May bank holiday. The way the calendar works out, Britons can take an 11-day vacation using only three vacation days. And Pricewaterhouse Cooper estimates that as many as 6 million workers might do so. The result is an economy-wide productivity slowdown in the final two weeks of the month, cutting £5 billion or more from GDP this quarter—though the effect should quickly fade as Britons' bosses prod them to work harder once they get back.
Still, the argument that the wedding will be a net loss for the economy seems convincing: The low estimate of productivity-related costs swamps the high estimate of consumer-spending gains.