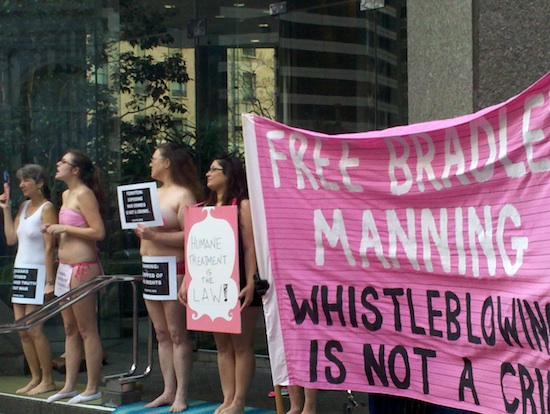 3/20/11: Supporters of Pfc. Bradley Manning outside the building
where US. Senator Dianne Feinstein's offices are located.
Via Dan Goodin in San Francisco
David J. Hoffman of The Washington Blade
reports
on a protest to be held at 2 p.m. Sunday at the Quantico Triangle near the intersection of Joplin Road and Route, 1 50 yards from the main gate of the Virginia Marine base, according to Kevin Zeese, an organizer of the Bradley Manning Support Network.
The protest will be led by famed Pentagon Papers whistleblower Daniel Ellsberg.
"Long-term solitary confinement is torture," said Zeese, quoting Charles Dickens (who spent months at a time living with populations of U.S. prisons and mental hospitals in the 19th century).
...He is awakened every morning at 5 a.m. and is not allowed to sleep again until 8 p.m. "If he attempts to sleep at any time from 5 a.m. to 8 p.m.," said Zeese, "he will be made to sit up or stand by the guards." He is not allowed to exercise in his cell, forbidden even from doing pushups. If he tries, the guards stop him, Zeese said.
Recently, for more than a week, he was placed on a so-called "prevention of injury watch" and required to give up his prison jumpsuit and boxer shorts at night, sleeping naked, ostensibly to prevent him from committing suicide, he added.
The brig psychiatrist however has labeled Manning as a low suicide risk. Even so, he was ordered to sleep in the nude, to prevent him from using any garments to assist in a suicide attempt. Each morning, then, he was forced to get out of bed, "shivering from being naked all night in a cold cell," said Zeese, and forced to walk to the front of his cell, "with his hands in front covering his genitals."
"A guard orders: Stand at parade rest," said Zeese, ands Manning is told to remain there, his hands behind his back with legs spread shoulder width apart, "waiting and waiting," until the Brig Supervisor arrives, and everyone is then called to attention. The supervisor and other guards then walk past his cell inspecting him from all sides. "They stop," said Zeese, "they look as he stands naked, they stare at him, then they stare at him some more." Finally, Manning is told to go back inside his cell and wait there, still naked, until, perhaps 10 minutes later, his clothes arrive and he can dress. But Zeese said, "the shiver from the cold night stays with him."
...On Sunday, P.J. Crowley, the official spokesperson for the U.S. State Department, resigned (or was forced to resign), after he was quoted having termed Manning's treatment to be "ridiculous and counterproductive and stupid" in off-the-cuff but on-the-record remarks made by Crowley recently when speaking to a group of students at the Massachusetts Institute of Technology. President Obama rejected that criticism on Friday, saying that he had asked the Pentagon about Manning's treatment and had been assured that his terms of confinement were "appropriate and are meeting our basic standards."
Calling the U.S. government "our Big Brother security state," Zeese told the crowd at Busboys and Poets on Sunday that "the military says they do it for Manning's own protection" but that this is "a lie that does not pass the straight face test."
"The president re-enforces the lie, telling America that he has talked to the Pentagon and they have said it is for his own protection. The president says this with a straight face," a grim Zeese said, asking, "Does anyone believe the president any more?"
...Before the rally, the one person able to visit Manning other than family members, David House — a friend who is a computer scientist and MIT researcher — will visit him in the morning with words of support and then come out to report on his condition. [House himself has been the target of government harassment because of his efforts on behalf of Manning—Aksarbent.]
After the rally, Zeese said that the march to the main gate will begin, "and we're not sure what will happen next, but for sure we're taking our message to free Bradley Manning to the front gate," and that Ellsberg and retired Army Colonel Ann Wright, an activist with CodePink, will ask for a meeting with the Brig Commander, CWO2 Denise Barnes to discuss Manning's treatment.
For more information about the rally on Sunday and about the Bradley Manning Support Network, contact Kevin Zeese, director of Come Home America and steering committee member for the BMSN, at 301-996-6582 or by e-mail at kbzeese@gmail.com or visit bradleymanning.org. Another local BMSN organizer to contact is Peter Perry at 202-631-0974.